From the Shelf
True Stories with Staying Power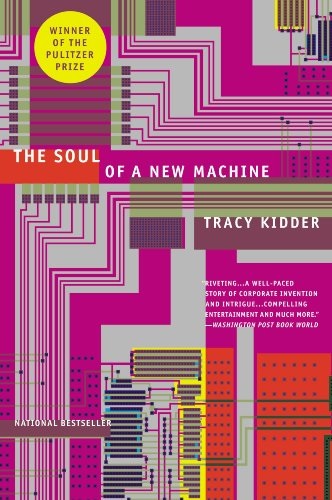 When Tracy Kidder won the Pulitzer Prize and National Book Award in 1982 for The Soul of a New Machine, he was launched on a career that now spans nearly four decades, featuring books about an assortment of fascinating people. These three are my favorites from an impressive body of work.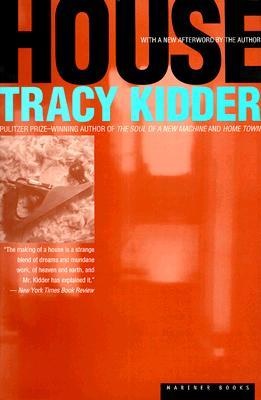 In House (Mariner, $18.99), Kidder embedded himself with Judith and Jonathan Souweine, a young couple from Amherst, Mass., as they embarked on the construction of their first house with a small company of unconventional craftsmen whimsically named Apple Corps. From negotiating the contract to the dwelling's completion, Kidder provides a comprehensive account of the pleasures and pains of the undertaking that's as intimate as it is informative.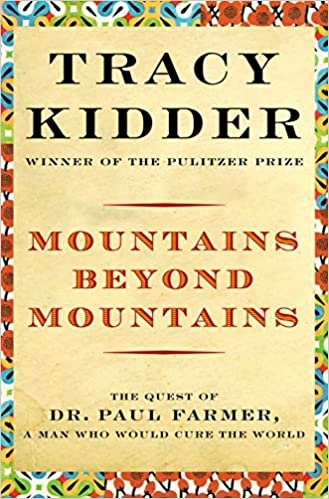 Mountains Beyond Mountains: The Quest of Dr. Paul Farmer, a Man Who Would Cure the World (Random House, $18) is Kidder's profile of the founder of Partners in Health, a physician and anthropologist who's devoted his life to fighting tuberculosis and AIDS in impoverished countries like Haiti. Over the course of a year, Kidder follows Farmer from his base in Boston on exhausting trips to Cuba, Siberia and elsewhere, exploring the values that fuel his relentless commitment to public health, and revealing how this talented and driven man surmounts the obstacles that stand between him and his lofty goals.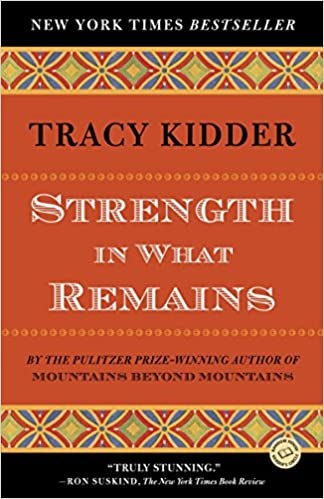 The life Kidder describes in Strength in What Remains: A Journey of Remembrance and Forgiveness (Random House, $18) would seem almost impossible to believe were it not for its author's scrupulous reputation for accuracy. Deo is a young man who flees the genocidal terror of his native Burundi, arriving in New York in 1994 with $200 to his name, and eventually graduates from Dartmouth Medical School. Kidder's description of his subject's return to Burundi to establish a clinic recounts an inspiring journey of memory and reconciliation. --Harvey Freedenberg, freelance reviewer

In this Issue...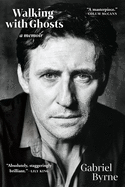 In this intimate, emotionally evocative memoir, the lauded Irish actor reveals the demons he's battled while plying his craft.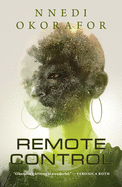 A little girl receives the ability to destroy life instantly, bringing her both tragedy and independence in this enthralling Afrofuturist story from a World Fantasy Award winner.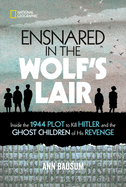 Hitler quelled German resistance with family punishments that included young children, several of whom recount their detainment during World War II in this engrossing middle-grade history.
Review by Subjects:
Mystery & Thriller ⋅ Science Fiction & Fantasy ⋅ Romance ⋅ Biography & Memoir ⋅ Psychology & Self-Help ⋅ Reference & Writing ⋅ Children's & Young Adult

From Bank Square Books/Savoy Bookshop & Cafe
Upcoming Events
VIRTUAL: Sci-Fi & Fantasy Book Club Discusses Ninth House by Leigh Bardugo
01/25/2021 - 8:15PM
Join us at 8:15pm! Discussing Ninth House, by Leigh Bardugo, and meeting at the via Zoom. Find a list of book selections here. This month's meeting will be held virtually on Zoom. Please email events@mysticbooksinc.com if you would like to join the Zoom!
VIRTUAL: Read of The Day with Luanne Rice (The Shadow Box)
01/26/2021 - 6:00PM
Bank Square Books presents an author discussion and Q&A with bestselling author Luanne Rice in advance of the release of her newest book, The Shadow Box. Luanne will be in conversation with Rick Koster of The Day as part of the book club, Read of The Day, co-hosted by The Day and Bank Square Books. This event is free, registration is required to join the Zoom. Copies of Luanne's books preordered through our website will be signed by the author. ...
VIRTUAL: Kenneth Rosen (Troubled) Author Talk and Q&A
01/28/2021 - 6:00PM
Bank Square Books and Savoy Bookshop & Café present an author talk and Q&A with Kenneth R. Rosen for the release of his new book, Troubled: The Failed Promise of America's Behavioral Treatment Programs. This event is free, but registration is required to join the Zoom. About the Book An award-winning journalist's breathtaking mosaic of the tough-love industry and the young adults it inevitably fails. In the middle of the night, they are...
VIRTUAL: Daniel Simpson (The Truth of Yoga) Author Talk and Q&A
01/30/2021 - 2:00PM
Bank Square Books and Savoy Bookshop & Café, in partnership with the Mystic Yoga Shala, present a virtual author event on Zoom with Daniel Simpson, author of The Truth of Yoga as a part of our Winter 2021 Self Improvement Series. This event is free, but registration is required to attend the Zoom. About the Book A succinct, approachable guide to the origins, development, key texts, concepts, and practices of yoga. Yoga is practiced by many millions of people worldwide and...
VIRTUAL: Romance Book Club Discusses The Midnight Bargain, by CL Polk
02/01/2021 - 8:00PM
Join Romance Book Club to discuss The Midnight Bargain, by CL Polk. This month's meeting will be held virtually on Facebook at 8 PM EST. Interested in joining? Email events@mysticbooksinc.com.
VIRTUAL: K. Chess (Famous Men Who Never Lived) Author Talk and Q&A
02/03/2021 - 6:30PM
Bank Square Books and Savoy Bookshop & Café present a virtual author event on Zoom with K. Chess, author of Famous Men Who Never Lived. Chess will be in conversation with Mike Chen, author of We Could be Heros. This event is free, but registration is required to attend the Zoom. About Famous Men Who Never Lived Wherever Hel looks, New York City is both reassuringly familiar and terribly wrong. As one of the thousands who fled the outbreak of nuclear war in an...
Book Candy
Books Featuring Black Athletes
"Cultural Passport: 44 books featuring Black athletes" were recommended by Troy Belle, JBH Research and Reference Division, Schomburg Center for Research in Black Culture.
---
Every writer wants to know "the reason your cat loves to sit on your computer keyboard," and Mental Floss has the answer.
---
"Check out these vintage pulp covers for classic Patricia Highsmith novels," Lit Hub suggested.
---
Usage notes: Merriam-Webster on Feign, Feint, and Faint.
---
Atlas Obscura explained "why 1920s L.A. went wild for an 18th-century Scottish novelist."
---
Author Louise Candlish picked her "top 10 most dislikable characters in fiction" for the Guardian.

Great Reads
Rediscover: Ida Cook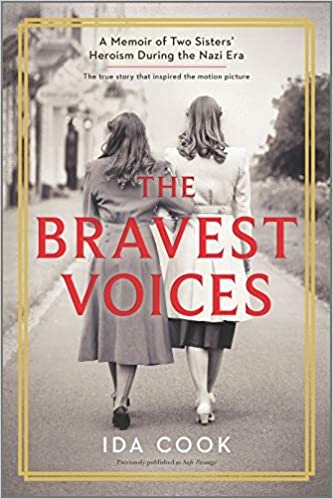 Ida Cook (1904-1986), a British author who wrote 112 romance novels under the name Mary Burchell, also helped 29 Jewish refugees escape Nazi Germany in the 1930s. She and her sister, Mary Louise Cook, used their love of opera as cover to travel in Germany, and they smuggled out valuables that allowed Jewish refugees meet Britain's financial security requirements for immigration. Cook funded these operations with proceeds from her romance novels. The sisters were named as Righteous among the Nations by the Yad Vashem Martyrs and Heroes Remembrance Authority in Israel in 1965. In 2010 they were both honored as a British Hero of the Holocaust by Britain.

Ida Cook's first novel written as Mary Burchell was published in 1936. The most famous of her many works is the Warrender Saga, which heavily incorporates concert halls and operas. Cook co-founded the Romantic Novelists' Association and served as president from 1966 to 1986. In 1950, she wrote a memoir under her real name titled We Followed Our Stars, which was later revised and expanded as Safe Passage. On January 19, 2021, Park Row published another revamped version of Cook's memoir, The Bravest Voices: A Memoir of Two Sisters' Heroism During the Nazi Era ($17.99). --Tobias Mutter
The Writer's Life
Reading with... Michelle Gallen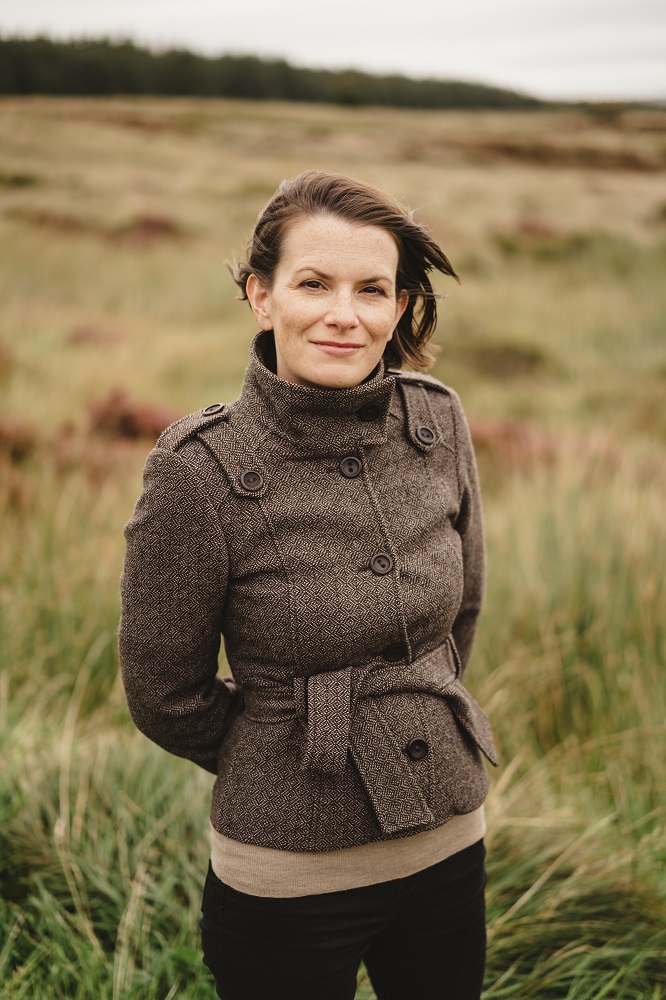 photo: Declan Gallen
Michelle Gallen was born in County Tyrone in the mid 1970s and grew up during the Troubles a few miles from the border between what she was told was the "Free" State and the "United" Kingdom. She studied English literature at Trinity College Dublin and won several prestigious prizes as a young writer. Following a devastating brain injury in her mid-20s, she co-founded three companies and won international recognition for digital innovation. She lives in Dublin with her husband and kids. Big Girl, Small Town (Algonquin, December 1, 2020) is her first novel.
On your nightstand now:
I usually read myself to sleep, and then read some more when I wake in the middle of the night. I'm bouncing between two books. I'm reviewing a final draft of my second novel in reader, rather than writer, mode, trying to tighten up the manuscript before I submit it to my agent. When this melts my brain, I take refuge in the 2019 Booker Prize-winning novel Girl, Woman, Other by Bernardine Evaristo. It's a funny, smart and energetic book that makes me miss London, the theatre, pubs and people. But it's also a comfort. The book transports me to pre-lockdown days, when I used to magic my way into a conversation with strangers who sometimes spilled their secrets and adventures as I listened, rapt. I try not to contrast my current manuscript to this work of genius!
Favorite book when you were a child:
I was a voracious and precocious reader as a child. I was 11 when I plucked Down All the Days from my mother's bookshelf. When she caught me reading it, she told me I was too young to read the likes of Christy Brown, and she confiscated the novel. Because nothing is as alluring as a forbidden book, I smuggled Down All the Days back off the shelf and read it in secret. This riotous, filthy, lyrical and heartbreaking book--written by someone almost completely paralyzed by cerebral palsy--seared itself into my consciousness and taught me lessons about endurance, joy and resilience that have helped me navigate my darkest days. Flawed, bawdy and brilliant--it's most definitely not a children's book--but I love the characters' zest for life despite incredibly tough circumstances.
Your top five authors:
Oh, I hate this question. Naming a top 5,000 authors wouldn't do the world of words justice. But if I must:
Elena Ferrante
Marieke Lucas Rijneveld
Shakespeare
Alice Walker
Seamus Heaney
Book you've faked reading:
I am horrified by this question. People fake reading books?!? The closest I've come to that was when my book group voted on our next book after I'd sunk several glasses of wine. I woke the next day, fuzzy on which book we'd agreed on, but too embarrassed to admit I'd forgotten. I knew the title was 'American Something to Do with Weddings,' so I did a quick search and found An American Marriage by Tayari Jones. It seemed to tick all the boxes, so I quickly read it. Growing up, injustices such as the wrongful imprisonment of the Birmingham Six and the Guildford Four by the British were powerful reminders that Irish citizens could not rely on justice to be blind, so An American Marriage resonated with me. I bumped into a book group friend the day before our meet up. We then had an enormously strange conversation in which her opinion of An American Marriage was entirely different to mine. Towards the end of the conversation I realized that I'd read the wrong book--they were reading American Wife by Curtis Sittenfeld! I had to speed read American Wife overnight. I guess I temporarily faked reading American Wife, but I did read it in the end. Fast.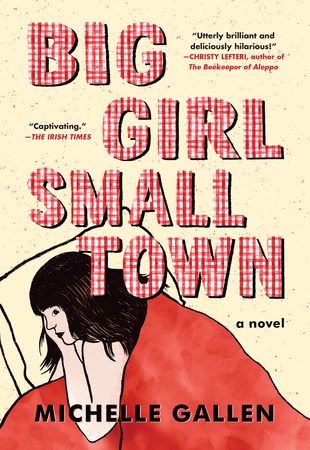 Book you're an evangelist for:
I absolutely love Oona by Irish-American poet Alice Lyons. It's an account of a first-generation immigrant girl, growing up in an affluent New Jersey suburb. She loses her mother at an early age, and this void shapes her journey through adolescence and her development as an artist. Oona engages with white privilege and the conspicuous consumption of 1950s America in contrast with a much poorer, though culturally rich Ireland. The book is written without using the letter "O"--a technical feat that makes "normal" texts look oddly fat by comparison.
Book you've bought for the cover:
I read the e-book of Crissy Van Meter's gorgeous debut, Creatures, and because the cover was so beautiful, I had to buy a copy for my bookshelf. It's one of those rare covers that manages to capture the book's atmosphere. I suspect that if I licked the jacket, I'd taste salt.
Book you hid from your parents:
My uncle, a nurse, gave me I'm Done Crying by Louanne Ferris when I was around 12 years old. I kept it hidden because I'm Done Crying is an eye-opening account of Louanne's experience as a Black woman working as a nurse's aide in a hospital in Birmingham, Ala. The author was married at 15 years old to a rather feckless man, and raises her children in condemned housing while working at a hospital staffed by burnt out, indifferent medical staff. I will forever remember the scene where the narrator spots that her baby has something in his mouth. She hooks a finger inside to extract the object, and pulls out a live cockroach. The level of poverty and deprivation detailed in I'm Done Crying--as well as Louanne's dignity and devotion to others--reminds me of mother's stories of teaching in a deprived part of Derry city in the late 1960s.
Book that changed your life:
The summer before I started college, I read Robert McLiam Wilson's Ripley Bogle in one sitting. It was the first time I read a Northern Irish book that wasn't a cheap soap opera involving the IRA, the British army and a bomb or gun attack. The book unfurls over four days, during which a homeless former Cambridge student tramps London, remembering his childhood and education in West Belfast. Angry, funny, obscene and insistent--Ripley Bogle showed me that oddball narrators and the ordinary horror of Northern Irish life--are compelling.
Favorite line from a book:
"Good writing is supposed to evoke sensation in the reader, not the fact that it's raining, but the feeling of being rained upon." --E.L. Doctorow
Five books you'll never part with:
The Art of the Glimpse, edited by Sinéad Gleeson--a door-stopping collection of over 100 Irish short stories.
The Rattlebag, edited by Ted Hughes and Seamus Heaney--an eclectic and wide-ranging collection of Hughes and Heaney's favorite poems.
Milkman by Anna Burns--I was taken hostage by this 2018 Booker Prize-winning novel. I could read it 10 times over and still find something extraordinary to mull over.
Wide Sargasso Sea by Jean Rhys--a feminist and anti-colonial riposte to Charlotte Bronte's Jane Eyre that gives a voice, history and dignity to the madwoman in the attic.
Not Now, Bernard by David McKee--a children's classic that reminds me of the chasm between my kids' wild and precious world view and my own blinkered experience.
Book you most want to read again for the first time:
I wish I could experience A Prayer for Owen Meany by John Irving for the first time again. I've never fallen so deeply in love with a character, and I've never cried so hard at a book's conclusion. I can't wait until my kids are old enough to read it.
Book Reviews
Mystery & Thriller
Putnam, $27, hardcover, 448p., 9780593188217
Soho Crime, $27.95, hardcover, 336p., 9781641292078
Science Fiction & Fantasy

Tor, $19.99, hardcover, 160p., 9781250772800
Romance
Forever, $8.99, mass market paperbound, 352p., 9781538717509
Gallery Books, $16, paperback, 336p., 9781982151591
Biography & Memoir

Grove Press, $26, hardcover, 208p., 9780802157126
Beacon Press, $25.95, hardcover, 176p., 9780807008898
One World, $27, hardcover, 272p., 9781984820396
Psychology & Self-Help
Atria, $27, hardcover, 256p., 9781982140106
Reference & Writing
Catapult, $16.95, paperback, 256p., 9781948226806
Children's & Young Adult

National Geographic Kids, $19.99, hardcover, 144p., ages 12-up, 9781426338540
Thames & Hudson, $17.95, hardcover, 32p., ages 4-8, 9781760761110
Roaring Brook Press, $14.99, hardcover, 96p., ages 4-7, 9781250305763
---